MacBook Air Repair: Troubleshoot Common MacBook Air errors 
Home
MacBook Air Repair: Troubleshoot Common MacBook Air errors 
MacBook Air is a version of Apple's Mac series of notebook computers which was released in 2008. It is a wonderful combination of latest technology and trendy design. MacBook Air offers several unique features such as a full-sized keyboard, 11.6 or 13.3-inch display, thin body structure and many more. However, it is not a perfect machine and issues can occur anytime without giving prior notice. With MacBook Air may face various issues such as screen damage, water damage, a problem in the motherboard, overheating, etc. We recommend you not try random solutions as it can lead to some serious consequences. You should rather have a word with our experts to solve these issues quickly and start reusing your MacBook Air. We have developed a strong team consisting of highly skilled experts. They can provide you world-class MacBook Air repair service at a reasonable price and will fix all your MacBook Air-related problems. Connect with us via call, mail or chat to avail our best in class services whenever you need.
Trust us to avail reliable MacBook Air Repair in Dubai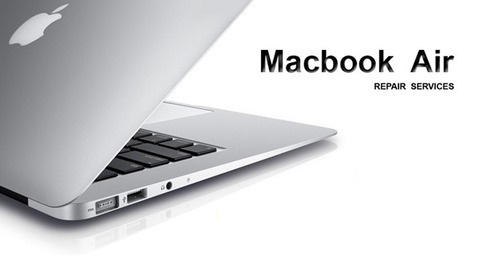 Our experts are well-versed with all relevant information about MacBooks. We have a proven record of fixing several MacBook models with 100% success rate. Our repair team takes pride to offer the following premium services for MacBook Pro.
Screen repair and replacement
Motherboard repair and replacement
Speaker repair and replacement
Camera repair and replacement
Power button repair
Water damage repair
Battery repair and replacement
Charge Port repair
Home button replacement
Virus removal service
Data recovery service
Hard disk repair and replacement
We often provide regular training to our experts and keep them updated with the latest technological advancements. In addition, the professionals at MacBookRepairDubai collect regular feedback from our customer which helps us to improve our technical skills and service quality. We also offer easy maintenance tips to our customers to prevent their MacBook Air model from future errors.
Are you struggling with the following Macbook Air related problems?
Broken or damaged screen
Overheating issue
Water damage due to the spilling of water or any other liquid
Unresponsive keyboard
Virus or malware attack
Hard disk malfunctioning
Home button or volume buttons are not working
Is your MacBook Air giving you any of the errors mentioned above? If yes, connect with us immediately via call, mail or chat to avail instant help from our skilled experts. We understand the value of your time and offer on-site service to you. You can book an appointment with our experts by choosing a preferable time and location of the visit. Our executives will provide you with an affordable Apple MacBook Air repair service at your doorstep without any hassle.
Looking For budget-Friendly Apple MacBook Air Repair in Dubai? Dial @ 042480522
As soon as you encounter an error with your MacBook Air, you should give us a call at our helpline number 042480522. Our experts at MacBookRepairDubai will offer you best-fit solutions to resolve all your MacBook Air-related problems. You can also drop a mail to us and receive a reply from our end within the next 24 hours. Furthermore, you can talk to our experts in real-time via our live chat option and avail perfect solutions within a quick span. Connect with us today and get rid of all problems with your MacBook Air. We also provide iMac repair service in Dubai.
FAQs of MacBook Air Repair in Dubai