MacBook Adapter Repair and Charger Replacement Services in Dubai
Home
MacBook Adapter Repair and Charger Replacement Services in Dubai
Imagine a situation where you are working on the system, and suddenly the laptop shuts down. When you try to turn it on, it fails to start by leaving you in a state of confusion. Usually, a user will think that maybe the battery has collapsed, but sometimes a faulty adapter can also be responsible for system failure. We at MacBookRepairDubai offer you quality charger replacement services for all Mac models at affordable price quotes. With an experience of several years in repairing adapters without failing for a single time, we have become the prominent choice of customers in Dubai.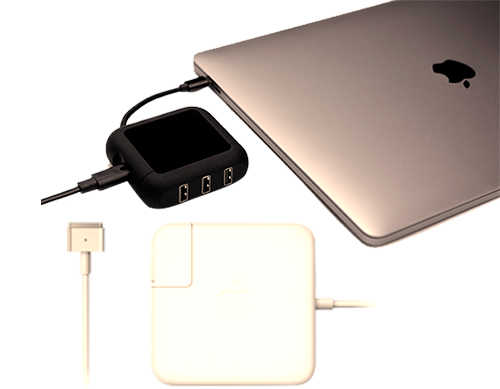 We recognize that you can face a faulty charger issue at any time which can halt your activities and can hamper your work. To provide you on-time assistance we have established a system of 24×7 customer support. Here, you can contact us by making a call or writing an email. Our specialists will ensure that you get useful advice for queries related to MacBook adapter repair without any delay.
We offer You Guaranteed Solutions and Genuine Parts for Charger Replacement
With exposure to multiple cases of adapter malfunction, our team has gained insights which have helped us in developing efficient MacBook adapter repair solutions. One of the issues which users encounter is excessive line noise. In this problem, some wall circuits may experience voltage spikes and drop-outs. When such event occurs too often, then it can trigger the adapter's over-voltage protection circuits which in return will shut off the adapter to limit circuitry damage. To resolve this issue, you need to cool down the component and unplug it from a device.
In case if wiring needs to be changed, then you will require an expert. Our professionals have handled such situations with ease and have provided quality solutions. To keep them foremost with technological advances, we train them regularly so that they can deliver you excellence in every transaction. Following are the services which we offer to our consumers:
AC Power Adapters Issue
MacBook Pro won't charge and has no light
DC Power Adapters Issue
MacBook Charger not working
MagSafe Adapter not working
Power Cord Issues
MacBook Charger heating up
MacBook Pro won't turn on
To provide you with comfortable services, we offer a feature of on-site assistance. Here, by booking an appointment with our experts through the helpline, you can get best in class MacBook Charger repair services at the doorsteps. In case if the device requires treatment at the lab, then we also provide pickup and drop facility.
Choose MacBook Repair Dubai and Get Class-Apart Services
We understand that every consumer searches for some benchmarks when it finalizes a service provider. If affordability, productivity, genuine parts and quality advice are your criteria, then you can stop your search as we can be your one-stop solutions for all MacBook adapter replacement requirements. Along with efficient solutions, we also offer some benefits which you can enjoy with us if we become your service partner. Following are the perks which you can have with us:
Quality solutions
Genuine parts
Transparent transactions
Onsite assistance
24×7 customer support
If your MacBook adapter is not working, then give us a chance to serve you with quality solutions. Contact us today and get excellent MacBook charger replacement and repair services which your Mac deserves.