Logic Board Repair and Replacement Service in Dubai
Home
Logic Board Repair and Replacement Service in Dubai
Computers and laptops are now a vital part of our working and personal lives. We depend upon them for the valuable data which can cost us a fortune if we lose it due to some malfunction. One of the essential components by which a system works is the logic board. It is also known as the motherboard in which all other components are attached such as memory, and connectors for input as well as output devices. The base of a logic board consists of a very firm sheet which is made of non-conductive material such as stiff plastic. The whole system can stop working if a single error occurs in the logic board. Whenever you encounter such issues, you will require a technician who can fix these problems without any inconvenience. MacBook Repair Dubai presents you quality services which are affordable and productive.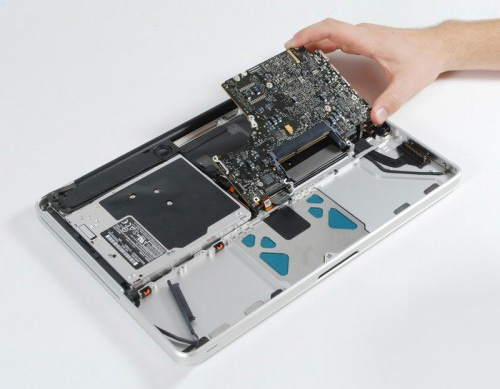 With our team of profoundly experienced experts, you will get guaranteed solutions and useful advice within minimum time. Following are the symptoms which can help you in understanding that whether the problem is related to a motherboard or something else.
A laptop is powering up, but not booting to OS
Distorted graphics which are causing lines or blurred colours
Overheating of laptop
WiFi is not working
Beep Sounds coming from a device
No display on screen or external monitor
If your system is also showing these signs, then it is possible that your motherboard is about to collapse.
We have Handled almost all issues related to Logic Board
We are one of the reliable logic board repair service providers in Dubai. With our vast network of service, we offer you prompt services. By working on complex situations, We have gained expertise which has helped us in generating solutions which are easy to apply and efficient. Following are the issues in which we can assist you.
The logic board is unable to recognize or show peripherals which are plugged in
Peripherals have stopped working
Slow bootup process
The device is not able to detect the flash drives or monitor
Logic board can't perform power on self-test (POST)
Presence of a burning smell or burn marks on the logic board
Leaking capacitors
Our team has Apple certified technician which have relevant skills and knowledge to resolve all the issues of the logic board without putting much efforts.
Why should you select MacBook Repair Dubai?
We are one of the leading repair partners in Dubai who is capable of solving all logic board related issues within the pocket-friendly budget. By choosing us, not only you will get services, but some benefits too which are as follows.
100% customer's satisfaction.
Instant support as per your requirement
Onsite repair services.
Support from highly experienced technicians.
Reasonable Service charges
Quality solutions
On time delivery.
24×7 helpline
Call us today if you are also facing issues with the motherboard of your device and want logic board repair instantly. We will be happy to help you. Our specialists will make sure that you get the best and efficient solutions for your MacBook device without any delay.