MacBook Air Logic Board Repair
Home
MacBook Air Logic Board Repair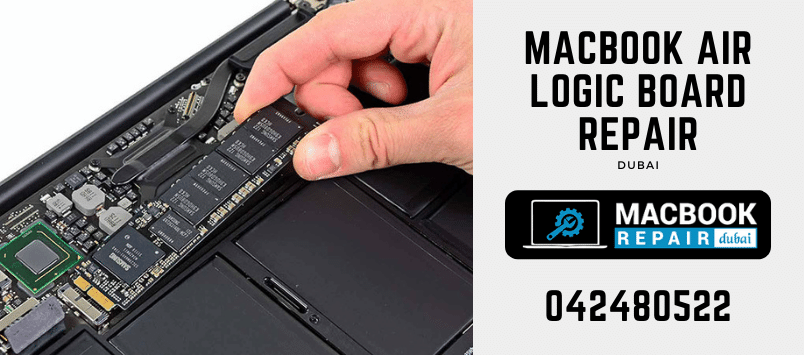 MacBook Air has been a favourite for many users all over the globe. It is extremely lightweight and has exceptional battery life. Though it is extremely reliable as a technical device, it is not unusual for users to face technical glitches on the MacBook Air logic board. The logic board is an essential component of your MacBook as it is home for multiple other programs on the system. Defective manufacturing, loosening solder and static, heat can lead to your logic boards having issues. In that case, avail MacBook Air logic board repair from our efficient professionals at our MacBook Repair Dubai and mitigate your technical woes. Our services are extremely affordable and we keep your convenience in mind.
Get To Know The Common Problems With Logic Boards
The logic board is your MacBook's main circuit board. There are a variety of reasons for logic board failure.
You might see stripes across the screen vertically or horizontally which could be a reason for failing logic board. However, if you experience the problem of a blank, gray or white screen, it is also an indicator of issues on the logic board.

Other than that, you can also experience an issue while starting up. Even though it initially boots fine, it might shut off within 5-15 seconds after starting up. It might be a symptom of a possible logic board issue.

Once you shut down your system, it fails to restart unless you allow it to sit without power for hours.

Playing videos may work out fine, but it may become compressed in the middle of the screen.

Sometimes, extreme heat can lead to the softening of the solder thereby causing logic board problems.

In case, you have spilled some liquid on your MacBook Air, it can cause your logic board potential damage.

You might also see the problem of no sound indicating an issue with the logic board.
No matter what the cause of a logic board issue is, our experts at MacBook Repair Dubai can help you in diagnosing the problem and take effective steps to get rid of the problem. Therefore, choose professional help for MacBook Air logic board repair at an affordable rate.
Reasons For Choosing Our MacBook Air Logic Board Repair Service
Our experienced team of experts can help you in getting rid of all your concerns regarding MacBook Air logic boards. They will not only help you in troubleshooting but they will also replace the components of a logic board if needed.
If the logic board on your MacBook Air needs cleaning, we will do that for you. Also, if your system freezes at random instances, we are going to solve the problem for you. At times, users see unexpected error messages popping up all of a sudden. We, at MacBook Repair Dubai, will resolve the issue by providing you the best service.
Additionally, our expert team is efficient enough to diagnose every logic problem. They are extremely proficient when it comes to resolving complex issues in logic boards. Therefore, if you are looking for MacBook Air logic board repair in Dubai, feel free to contact our professionals and get the job done.
Reach Our Team Of Experts for Instant Repair
If you are in need of MacBook Air logic board repair, you can reach our experts at any hour of the day. They have gained enough experience to be efficient in relevant skills required to resolve logic board related issues. You will be able to reach us via three modes of communication. You can dial us at our Macbook helpline number 0424805223 and get your queries easily resolved. Although, you may mail us if it is most convenient for you. You will get immediate responses to your email at [email protected] with further instructions. Also, you can chat with us via our live chat portal. Therefore, just send us a message and resolve all your queries.