MacBook Air Repair Dubai
Home
MacBook Air Repair Dubai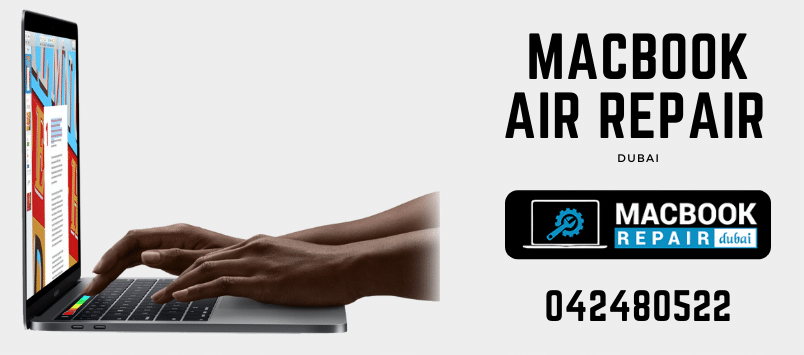 The MacBook Air is one of the leading names in Notebook computers. Apple has again captured the global market with the invention of the MacBook Air. Due to its durability and high-end innovative technologies, it has been one of the best selling laptops for several years. But after certain a period of time, every system tends to lose its performance. And MacBook Air is nothing exceptional in this regard. Unfortunately, users have reported several issues with this product. If you ignore such errors, such issues may get more crucial and prevent the users from enjoying a smooth working experience. Therefore, it's always better to seek help from a reliable service provider. For MacBook Air Repair, you can consult with our professionals from MacBook Air repair Dubai.
Take A Look At The Issues Our
MacBook Air Repair
Support Team Takes Care Of
We understand how frustrating it can be whenever you face trouble with your MacBook Air. Its because your main objective to invest such a huge amount of money for the product seems to go in vain. However, do not get disappointed with the performance of your MacBook Air laptop. Our MacBook Air repair service has the expertise to deal with each and every problem you face with the device.
We have been providing our services for a long time now. That's why we have the experience of dealing with the common issues that the users may face with their laptops. It's not possible to mention every issue. We have just enlisted some of the major issues below:
Unable to turn on the MacBook

: Due to a faulty battery, it is not possible to turn on the laptop. In such cases, you should replace the battery in order to maintain the performance of your system.

The battery is plugged in but not charging

: It is one of the major issues on a MacBook. The probable reason behind this is maybe the defective adapter. In such cases, you should immediately change the adapter. For a reliable replacement, you can connect with our support team from

MacBook Air repair Dubai

. As our service team is equipped with authentic spare parts of the laptop, you can easily believe in our replacement services.

The charge of the battery is draining quickly

: Although Apple promises 10 hours of battery life, several users out there have reported about the fast draining of device's battery charge. With the decreasing charge of the battery, it is not possible for a user to run a system.

Overheating of the system: During charging the battery, it is often seen that the system gets overheated than the usual. Are you facing the same issue? Then contact us immediately on our toll-free Mac customer service number: 042480522
No sound on the MacBook Air:

In the worst case scenario, users face this issue. Due to this problem, you can not enjoy any movie or listen to any music from your system.
Besides these issues, we also help our customers with any sort of problem with their systems. Along with troubleshooting the issues, we also provide our customers with a few guidelines on handling any other software and hardware problem.
Why Choose us?
With our MacBook Air repair Dubai Service, you can avail the best-in-class MacBook services at an affordable budget. To ensure you with our round the clock assistance, we motivate our engineers to work tirelessly. Our technicians have assured a 24*7 assistance. Apart from all these, you can get a fast and long-lasting service by choosing our support team. Additionally, we pledge to provide a punctual service at your fingertips.  
Call Us, Mail Us, Chat With Us
You can easily reach our MacBook Air Repair support team by calling us on our support number. Our support executives are available the entire day on our support number: 042480522. Besides calling us, you can also drop all your queries at our mail address: [email protected]. Apart from these, you can have a real-time chat session with our support team as well. Our Live Chat portal services are available on our website. Connect with us according to your preferences and let us solve the issues you are facing.